What is a Banister-Back Chair in Interior Design?
A banister-back chair is a type of chair that features vertical split banisters in the back.
When and where were these chairs widely used?
These chairs were widely used in rural America in the 1700s and are generally made of maple wood. Banister-back chairs often have an ebonized finish, which gives them a dark, rich color.
Are these chairs popular today?
Today, these chairs are popular among collectors and interior designers alike for their unique design and history. Whether you're looking for a rustic addition to your home or an interesting conversation piece, a banister-back chair is a great choice.
Advantages of a Banister-Back Chair in Interior Design
One of the advantages of a banister-back chair is that it can add a touch of rustic charm to any room.
These chairs are also comfortable and sturdy, making them ideal for everyday use.
In addition, their unique design is sure to be a conversation starter among guests.
Disadvantages of a Banister-Back Chair in Interior Design
The main disadvantage of a banister-back chair is that it can be difficult to find.
These chairs are not mass-produced, so they can be pricey.
In addition, banister-back chairs may not be suitable for everyone due to their unique design.
Before purchasing a banister-back chair, be sure to consider all of the pros and cons to decide if this type of chair is right for you
William and mary's furniture characteristics
The William and Mary style is a late Baroque style, which developed in England during the joint reign of William III and Mary II. This style is characterized by its ornate decoration, grandiose scale, and use of dark wood.
Some common features of this style include:
Elaborate carving.
Heavy use of dark woods, such as walnut.
Intricate inlay work.
Ornate hardware.
Detailed moldings.
Bold colors and patterns.
17th-century chairs
They were often quite large and imposing, with high backs and arms. The seats were generally upholstered in rich fabrics, such as velvet or damask. The William and Mary style is an excellent choice for those who want to add a touch of elegance to their home. However, this style can be quite formal, so it may not be suitable for every home.
American furniture styles
In the 1700s, American furniture was largely influenced by European styles. However, American craftsmen began to develop their own unique style, which was characterized by simplicity and functionality. This style became known as Shaker furniture and is still popular today.
Related Links
Banister-back chair 1715–35
Banister Back Chairs
18th Century N.E. Bannister Back Side Chair
Banister-Back Side Chair – Milwaukee Art Museum
Banister Back Chair
Related Videos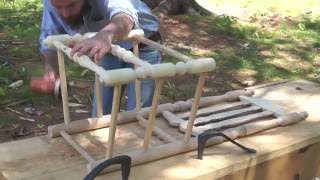 Making A Banister-Back Chair
Collecting 18Th Century Chairs - Banister Back 18Th Century Chairs
Collecting 18Th Century Chairs - Reversed Banister 18Th Century Chairs
Collecting 18Th Century Chairs -: Reversed Banister 18Th Century Chairs
Collecting 18Th Century Chairs - Decorating With 18Th Century Chairs
Making A Banister-Back Chair

Collecting 18Th Century Chairs - Banister Back 18Th Century Chairs

Collecting 18Th Century Chairs - Reversed Banister 18Th Century Chairs

Collecting 18Th Century Chairs -: Reversed Banister 18Th Century Chairs

Collecting 18Th Century Chairs - Decorating With 18Th Century Chairs