What are Casters in Interior Design?
Casters are furniture wheels attached to the base of a chair, stool, or another piece of furniture that allow it to be moved easily.
What are Casters used for?
They have been used for centuries in interior design and remain an important part of modern decor. Casters are typically round with a single swivel mechanism, which allows them to rotate in any direction with little effort. The most common type of caster used in interior design is the office chair caster, which is designed to provide smooth movement on hard surfaces such as carpet, tile, and wood floors.
Casters can also be used on other types of furniture such as dining chairs, stools, tables, and beds for an easy way to rearrange a room or transport furniture from one spot to another. Casters come in a variety of sizes and styles, making it easy to find the perfect look for any interior design project.
What are Casters made from?
There are two types of casters: rubber and plastic. The material on the caster will depend on what it will roll on and how much weight it can hold. Locking mechanisms help to keep the caster from rolling when it is not in use.
Advantages of Casters
Casters are a great way to add functionality to furniture pieces. They allow for easy movement of furniture, which can help you change the look of your room or move furniture around more easily. Additionally, casters can help reduce strain on the body by taking some of the weight off when pushing or pulling furniture pieces.
Disadvantages of Casters
The main disadvantage of casters is that they can be noisy when rolling on hard surfaces. Additionally, they require regular cleaning and maintenance in order to keep them working well.
Related Links
Casters – Furniture Casters – Furniture Wheels – House Of Antique Hardware
Furniture Hardware – Furniture Casters – Furniture Restoration Center Of Oregon
Furniture Hardware: Restoration Hardware Furniture From Van Dyke's
Antique Furniture Casters: Which Ones Are The Best For Restoration Projects?
Related Videos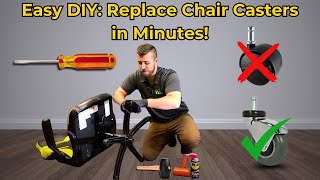 How To Replace Office Chair Casters - Full Install Video
How To Replace Office Chair Casters - Full Install Video