What is a Chesser in Interior Design?
Chesser is a piece of furniture that has been gaining popularity in interior design. A Chesser is a combination of a dresser and chest, narrower than the former and shorter than the latter. It typically contains several drawers for storage and may also feature a small tilting mirror. The size makes it ideal for use in bedrooms, especially those with limited space.
What is a Chesser used for?
It can also be used in a living room, dining room, or hallway for extra storage, creating an attractive and functional piece of furniture.
What materials and styles are Chesserы available in?
Chessers are available in a variety of materials and styles, from traditional wooden designs to modern metal and glass options. They offer versatility, enabling them to fit into any interior design scheme seamlessly. They are also relatively light and easy to move, making them a great option for those who like to redecorate their home regularly. With the right Chesser, you can create an elegant storage space that is both functional and aesthetically pleasing.
Can сhessers be combined with other pieces of furniture?
Chessers can be paired with other furniture pieces or used as stand-alone pieces to add character to a room. Whether you're creating a modern, minimalist look or an ornate traditional feel, there is sure to be a Chesser to fit your style. With their sleek design and versatile uses, they are perfect for any home.
Chessers are becoming more popular as homeowners become aware of the special features and benefits they offer. If you're looking to add storage without sacrificing style, a Chesser is a perfect choice. With their classic designs and modern materials, these pieces of furniture are sure to become an essential part of any home.
Why are сhessers so popular?
Chessers are a stylish and practical way to store your belongings in any room. Whether you're looking for extra space in your bedroom or want to give your living room a touch of sophistication, a Chesser is a perfect solution. With their versatile designs and attractive finishes, they are sure to make any home look beautiful while providing plenty of storage space. So if you're looking for something unique, a Chesser is a perfect choice.
With their sleek designs, versatile uses, and attractive finishes, Chessers are becoming an essential part of modern interior design. Whether you're looking for extra storage or a stylish way to display your belongings, a Chesser is an ideal solution. With its combination of functionality and style, it is sure to bring beauty and practicality to any home. So if you're looking for something unique, a Chesser is a perfect choice.
What is a Chesser drawer?
A Chesser drawer is a specially designed drawer that fits into the bottom of a Chesser. This type of drawer is typically used for storing extra items such as bed linens, towels, or clothing. The drawers are usually equipped with dividers to help organize items and keep them from spilling out when opened. They are also often made from durable materials such as:
wood,
metal,
or plastic in order to protect the items inside.
Related Links
Chesser At Bedroom Furniture Discounts
What's a Chesser?
Austin Chesser With Mirror – Bobs.com
Wooden Chesser Dresser
Oxford Black Chesser – Woodstock Furniture & Mattress
Related Videos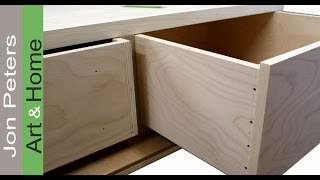 How To Build Plywood Drawers With Screws
How To Build Plywood Drawers With Screws