What is Chintz in Interior Design?
Chintz is a printed cotton fabric that is often "shiny" or glazed, giving it a unique and opulent appearance.
What is the use of chintz?
It's commonly used in traditional and contemporary design styles, as well as for upholstery and drapery applications. In interior design, chintz can be used to add an elegant touch to any room. It is also used to brighten up dull rooms and can be a great way to add texture and color to a room. Finally, chintz can also be used as an accent in more modern spaces, adding an eye-catching detail that stands out among other design elements.
What are some of the benefits of using Chintz?
Chintz is incredibly durable and can last for many years with proper care. It is also easy to clean, making it ideal for families with children or pets.
The unique look of chintz adds elegance and sophistication to any room.
Its versatile style allows it to be used in various design styles, from classic to modern.
Overall, chintz is a great fabric for adding luxury and elegance to your home décor. It is very durable and looks attractive, making it perfect for any interior design project. You can use it on furniture or as an accent piece to add beauty and style to any room.
What does chintz look like?
Chintz is a type of fabric with a distinctive design. The pattern can be any type of design, like flowers, stripes, or geometric shapes. Chintz comes in lots of different colors and designs so you can find the perfect one for your room.
Why is it called chintz?
The word chintz is derived from the Hindi word "chīnt", which refers to printed or painted cloth. This fabric was very popular in India during the 17th and 18th centuries and was later brought over to Europe. The term eventually became synonymous with this type of fabric and has been used ever since.
How do you care for chintz?
Chintz is a durable fabric, so it can last for many years with proper care.
To keep your chintz looking its best, vacuum regularly to remove dust and dirt particles.
It should also be kept away from direct sunlight and heat sources to prevent fading or discoloration.
Finally, be sure to spot and clean any spills or marks as soon as possible.
With the proper care, your chintz fabric can maintain its luxurious look and feel for years.
What is chintz fabric?
Chintz is a printed cotton fabric that is often "shiny" or glazed.
Related Links
Chintz – Fabric For Cosplayers
Prints – Toile – Chintz Fabric
Chintz – Lovetoknow
Chintz Home Decor Fabric – Shop Online At Fabric.com
Chintz Fabric, Wallpaper & Home Decor – Spoonflower
Related Videos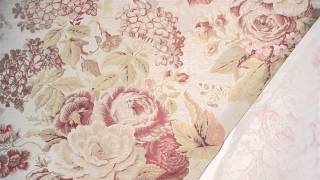 What Is Chintz Fabric?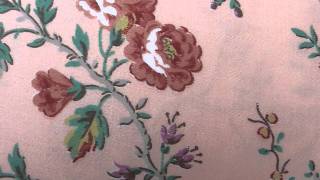 1940S 'Drawing Room' Light Chintz Vintage Fabric
1940S 'Drawing Room' Light Chintz Vintage Fabric