What are Curule Legs in Interior Design?
Curule legs are a type of furniture leg typically used on portable backless folding chairs. The name comes from the X-shaped pattern they form, resembling a Roman curule seat (also known as sella curulis). These legs became popular in the 19th and 20th centuries, primarily due to their strength and stability. They also tend to take up less space than standard four-legged chairs, making them ideal for small spaces.
What are Curule Legs made from?
Curule legs are often made from metal or wood and can come in various finishes.
What are Curule Legs used for?
They can also be used on larger furniture pieces such as sofas and daybeds. No matter what type of furniture they are used on, curule legs provide a classic look that is both stylish and functional.
Not only do curule legs add to the aesthetic of any space, but they are also incredibly durable and can withstand regular use without breaking down. The X-shaped pattern makes them particularly sturdy and can even support heavier items without wobbling or tipping over. However, there is one important consideration to note – if a chair or sofa with curule legs is placed on an uneven surface, the X-shape may cause the furniture to rock back and forth. To prevent this from happening, be sure to place any pieces with curule legs on a level surface.
Advantages of Curule Legs
The main advantage of curule legs is their portability. Since these legs typically fold up, they can be easily moved from room to room or even taken outdoors for use in the garden or on a patio.
In addition, curule legs are also very lightweight so they can be lifted and carried without too much effort.
Finally, due to their unique X-shaped design, curule legs are incredibly strong and durable, making them a great option for both indoor and outdoor settings.
Disadvantages of Curule Legs
The main disadvantage of curule legs is that they can be unstable if placed on an uneven surface. This issue can be rectified by placing the furniture on a level surface, but it's something to keep in mind when using these legs for your home.
In addition, since the X-shaped pattern does not provide as much stability as a standard four-legged design, curule legs are best suited for lighter furniture items such as folding chairs or benches. Heavier pieces of furniture may not be suitable for curule legs due to their limited stability.
Related Links
Curule Seat
Antique And Vintage Ottomans And Poufs – 2,608
Curule Seat
Edward Wormley – Edward Wormley Bleached Mahogany Reeded Curule Leg Table
Vintage Italian Savonarola Stool/Bench With Curule Legs And
Related Videos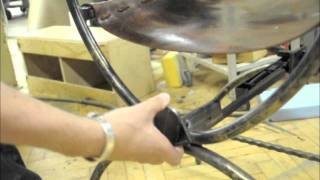 Medieval Chair