What is Diamond Tufting in Interior Design?
Diamond tufting is a classic upholstery technique used for creating a diamond pattern on the back of furniture. This intricate arrangement of buttons creates an eye-catching design that is both attractive and timeless. The process involves the careful placement of individual buttons which are secured in place by threading them through holes pre-drilled into the back of the piece of furniture. After the tufting is completed, fabric is usually applied to the back of the piece to complete the look and add additional cushioning.
What is Diamond Tufting used for?
This technique can be used on a variety of materials such as:
leather,
and even faux leather.
Diamond tufting adds a touch of vintage elegance to any space and is a great way to give any piece of furniture an instant update. Whether you're looking to add some style to a classic sofa or want something more modern, diamond tufting is the perfect way to achieve your desired look. It's easy to maintain and durable making it ideal for busy households with children and pets. As well as being beautiful, diamond tufting also adds an extra layer of comfort. The buttons create a softer surface to sink into, which is perfect for when you want to curl up and relax after a long day. If you're looking for a way to add some style and personality to your home, diamond tufting is an excellent option. With its timeless and classic appeal, you can be sure that it will always look beautiful in any room.
What are the different types of tufting?
There are two main types of tufting:
The first is standard tufting which involves the placement of individual buttons to create a pattern, usually in a diamond formation.
The second type is double or French tufting which uses two rows of buttons that are sewn together to create an overlapping pattern. This style can be used to create an even more intricate and detailed design.
What is tufting design?
Tufting design is the process of creating a pattern with tufts of fabric or buttons in order to create a decorative and luxurious effect. This technique can be used on furniture, curtains and other home accessories to give them an elegant and sophisticated look. Tufted designs can be intricate and detailed, or simple and subtle depending on the desired look.
What is the tufted fabric?
Tufted fabric is a type of material with a pattern of tufts or buttons that have been stitched in place. This technique creates an interesting texture and adds visual interest to the piece. Tufted fabrics are often used on furniture such as sofas, chairs, and ottomans, but they can also be used on curtains and bedding. Tufted fabrics are a great way to add a touch of luxury and sophistication to any space.
What is the best fabric for tufting?
The best fabric for tufting depends on your desired look and the type of furniture you're using. Generally, velvet and other heavier fabrics work well for tufting as they provide the necessary structure and hold their shape better. However, lighter fabrics such as linen can also be used for tufting if desired. You should always test out different fabrics to determine which one works best for your project.
Related Links
Learn The Art Of Diamond Tufting The Super Easy Way – The Whoot
Tufting Hack: The Easiest How To Do Diamond Tufting Tutorial Ever – Toolbox Divas
Tutorial: How To Do Diamond Tufting – All Things Thrifty
How To: Diamond Tufting 101 – Apartment Therapy
Related Videos
Intro To Diamond Tufting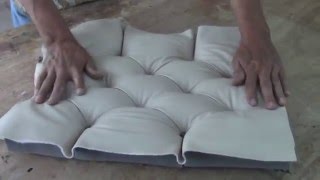 Diamond Tufting- Part 1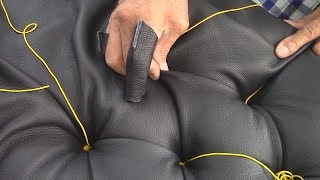 Diamond Tufting In Leather - Single Room Divider - Part 4
Diamond Tufting In Leather - Single Room Divider - Part 4