What is a Drum Table in Interior Design?
A drum table is a type of side or end table typically found in a living room, bedroom, or den. It features a circular top atop a tripod base and is often adorned with a deep skirt that may contain drawers. Drum tables are popular due to their unique design and attractive visual effect, making them ideal pieces of furniture for an accent or conversation area. With its distinctive shape, the drum table adds a touch of sophistication to any interior design.
They come in a variety of materials and styles, allowing for maximum personalization when it comes to choosing one for your home. Whether you are looking for something simple and classic or something more stylish and modern, there is sure to be a drum table that will fit your needs. Not only do they provide a beautiful and functional piece of furniture, but they also add a unique statement to any room. With its timeless style, the drum table is sure to be an eye-catching addition to your home décor.
What is a drum table used for?
As the name suggests, drum tables are used as end tables in living rooms, dens, and bedrooms. They provide a decorative accent to any space while being versatile enough to hold drinks, magazines, books, lamps, or other items. The drum table can also serve as an art piece in its own right; with its unique shape and design, it can act as a stunning centerpiece in any room. Additionally, the drawers featured on many drum tables provide extra storage and organizational space. No matter how you use it, this stylish piece of furniture is sure to be an eye-catching addition to any home.
What materials are drum tables made from?
Drum tables come in a variety of materials, from classic wood to more modern metals and glass. This allows you to choose a piece that will match your existing furniture or create an entirely new look. No matter what material you choose, the drum table is sure to be a conversation starter in any room.
What is a bunching table?
A bunching table is a type of side or end table that pairs together two or more tables to create one cohesive piece. These tables are typically circular but can come in various shapes and sizes depending on your preference. They are often placed next to couches or chairs and make great additions to any living room, den, or bedroom.
What is the table in interior design?
A table in interior design is a piece of furniture that can be used for many different functions. Tables come in all shapes and sizes, from traditional rectangular side tables to more modern circular top tables on tripod bases. They can be used as end tables, coffee tables, dining room tables, or even pieces of art depending on their design.
Related Links
Living, Office & Bedroom Furniture – Hooker Furniture
Drum Table – Agati Furniture
Beautiful Home Decor, Beautifully Priced
Drum Coffee, Sofa & End Tables – Living Room Furniture Online
Related Videos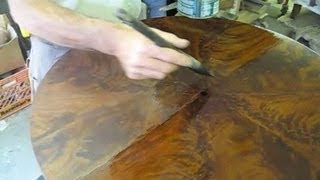 Restoring A Regency Drum Table - Thomas Johnson Antique Furniture Restoration
Restoring A Regency Drum Table - Thomas Johnson Antique Furniture Restoration