What is a Finish in Interior Design?
A finish is a surface coating used in interior design to add color, texture, and protection. It can be applied to many different surfaces such as:
wood,
metal,
stone,
fabric and more.
What is Finish used for?
The finish is used to protect against moisture, enhance the color and texture of a material, or to add decorative elements. It can be used on:
furniture,
walls,
floors and other interior surfaces to create unique looks and styles.
Types of Finish
The types of finish available vary based on the material being finished. Wood finishes include:
paint,
stain,
varnish,
shellac,
oil and wax.
Metal finishes include powder coating, anodizing and chrome plating. Fabric finishes include fabric treatments such as water repellents or soil release agents. Stone finishes include sealers and polishing compounds.
Applying Finish
The process of applying a finish depends on the type of finish being used. Paint and stain require different methods for applying, as do varnish, shellac, oil and wax. It is important to read the instructions on the product label before beginning any project involving finish application.
Maintaining Finish
Proper maintenance of a finish can help prolong its lifespan. Regular cleaning with the appropriate products is key to keeping the finish looking its best, as well as avoiding damage from dirt and moisture. It is also important to inspect the finish regularly for signs of wear and tear, such as chipping or fading.
What are the materials and finishes in interior design?
Finishes are used on a variety of materials including wood, metal, fabric, and stone. Finishes can range from paints, stains, varnishes and fabric treatments to provide color, texture and protection from moisture. The right finish can make all the difference in the look and feel of a room. Different finishes can be used to achieve different interior design looks, from rustic and natural to sleek and modern. Choosing the right finish for an item is an important decision that should be carefully considered before beginning any project.
There are many different types of finishes that you can choose from. You should pick the right one so that your furniture or other item lasts longer, looks better, and is protected from dirt, grime and other things that could damage it. Finishes are an important part of interior design, so make sure to consider them when planning your project.
The right finish can make a big difference. With so many types of finishes available, it is important to understand which one works best for the project. Depending on what the item is made of and how it will be used, more than one type of finish or coating might be necessary to get the desired result. When planning out a project, it's important to consider the types of finishes available and how they will affect the overall look of the room. Taking the time to select the right finish can help create an elegant and timeless interior design that will last for years to come.
What is a finish on a building?
A finish on a building is the outer layer of material that is applied to the interior and exterior surfaces of a structure. Finishes provide decorative elements, protection from moisture, and even insulation against heat or sound. Common finishes used on buildings include paint, stain, stone veneer, siding, stucco and plaster. Exterior finishes are often more durable than interior finishes, as they must be able to withstand harsher weather conditions.
Related Links
Wood Finishing
How To Finish Wood: 15 Steps (With Pictures) – Wikihow
Wood Finishes 101
Wood Finishing
Wood Finishing: Selecting a Finish – Finewoodworking
Related Videos
What Kind Of Finish Should You Use? | Wood Finishing Basics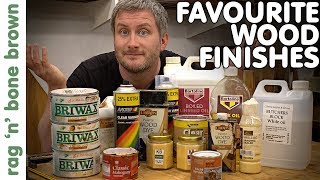 How To Choose A Wood Finish, And How To Apply
How To Finish Wood In 3 Easy Steps
What Kind Of Finish Should You Use? | Wood Finishing Basics

How To Choose A Wood Finish, And How To Apply

How To Finish Wood In 3 Easy Steps