What is a Futon in Interior Design?
A futon is a versatile furniture piece that has been used in Japanese interior design for centuries. Originally, the futon was placed on the floor and served as a mattress, allowing people to sleep in comfortable positions without having to worry about back pain. However, modern-day futons have evolved into much more than mere sleeping mattresses.
What is a futon used for?
In contemporary interior design, the futon is placed on a folding frame and can be used as both a seating piece and a bed. This makes it an extremely versatile addition to any room, offering the opportunity for multiple uses in one single piece of furniture. Furthermore, the size and shape of modern-day futons make them ideal for smaller spaces that may not have room for a larger bed. With its classic Japanese roots and modern adaptability, the futon is an excellent choice to add style and functionality to any space.
How do you make a futon look classy?
Incorporating a futon into your interior design can certainly add an aesthetically pleasing touch to any space. To make a futon look classy, consider pairing it with furniture pieces that create contrast in terms of shape and color.
For example, you could pair a black metal frame futon with natural wood chairs or tables.
Additionally, you can use decorative throws and cushions to add texture and color to your space. With the right combination of furniture pieces, a futon can give any room an elegant, stylish look.
Finally, when selecting a futon for your interior design project, make sure you understand how it will be used. This will help ensure that you choose one that is comfortable and provides the necessary support for its intended purpose. With the right futon, you can create an attractive and functional design that will last for years to come.
What is the meaning of a futon bed in the hotel?
In hotels, a futon bed is typically an elevated platform frame used as a traditional sleeping mattress. It can often be found in Japanese-style inns or ryokans, where it is regularly laid out for guests during their stay. The futon bed is usually made of soft materials such as cotton and wool and folds up into a small, compact shape when not in use. This traditional sleeping mattress is designed to provide a comfortable and firm surface for sleepers, while also being easy to transport and store if needed. In addition, some futon beds may even come equipped with heating systems to keep guests extra warm during their stay.
Futon decor ideas
When incorporating a futon into your home, there are many exciting and creative ways to make it stand out. Consider adding bright and bold throw pillows for an interesting contrast against the bedding. You could also hang a colorful tapestry above the bed or add unique lighting fixtures to create soft indirect light in the room. Bring life to your space with some plants. You can use hanging planters or potted ones. With the right accents and accessories, you can create a beautiful and inviting futon-inspired interior design.
Related Links
6 Best Futons 2019 – The Strategist – New York Magazine
Modern-Futon – Interior Design Ideas.
33 Best Futon Bedroom Images In 2019 – Futon Bedroom, Futon Bed, Futon Couch
12 Outstanding Small Futon Ideas
Use a Duvet For a Futon Cover In a Craft Room That Doubles As a Spare Bedroom
Related Videos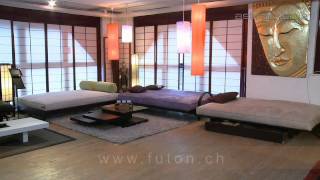 Futon Design Sa, Morges, Mattress, Futon, Bed
Futon Design Sa, Morges, Mattress, Futon, Bed