What is a Gainsborough Chair in Interior Design?
Gainsborough Chairs are a type of upholstered armchair that feature an upholstered seat and back, padded open arms, and carved decoration. These chairs have become increasingly popular amongst interior designers due to their classic look and timeless style. They offer an elegance that is essential when designing a sophisticated living space. With its curved frame and deep seating, the Gainsborough Chair is designed to provide comfort while still providing a visual appeal.
These chairs often come in a variety of colors and fabrics which makes them easy to coordinate with any type of decor. Whether you're looking for an armchair that blends into its surroundings or stands out as a statement piece, the Gainsborough Chair is an ideal choice. Its classic design will remain timeless for years to come and its padded arms provide ultimate comfort for those looking to spend time relaxing in their living room. With its deep seat and upholstered back, the Gainsborough Chair is perfect for creating a luxurious atmosphere any home can enjoy.
For more information on Gainsborough Chairs and how they can help enhance your interior design, contact a professional interior designer today. They will be able to answer any questions you may have and provide the best advice for bringing your vision to life. A Gainsborough Chair is truly a timeless piece that will bring comfort and luxury into your home for years to come.
Advantages of a Gainsborough Chair
Timeless design that will remain fashionable for years to come.
Upholstered seats and back are comfortable and supportive.
Padded arms provide extra support for extended periods of sitting.
Carved decoration adds a unique touch of style to any room.
Variety of colors and fabrics make it easy to coordinate with any decor.
Deep seat and back provide a luxurious atmosphere for any home.
The Gainsborough Chair is the perfect addition to any living room, bedroom, or office space as it offers both comfort and style.
With its timeless design, upholstered seat and back, and carved decoration, this chair is sure to become a statement piece in any home. So if you're looking to add a little bit of luxury to your living space, the Gainsborough Chair is a perfect choice.
Disadvantages of a Gainsborough Chair
The Gainsborough Chair comes with a few potential disadvantages.
First, due to its classic design, the cost can be quite high for some models.
Additionally, these chairs may not be suitable for smaller spaces since their bulkier frame takes up more room than other armchairs.
Finally, the carved decoration on these chairs can easily get scratched or damaged with regular use, so extra care must be taken when using them.
Related Links
18th Century Mahogany "Gainsborough" Chair With Chinoiserie Silk On Castors
Walter E. Smithe Furniture & Design Is Chicagoland's Leading Source For Custom Furniture And
George III Gainsborough Chair
Gainsborough Chair By Stately Homes – 5033 – Baker Furniture
Gainsborough Chair Hkc199511
Related Videos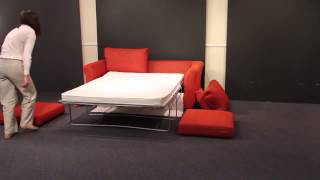 Gainsborough Sofa Beds - Show How Its Done
Gainsborough Sofa Beds - Show How Its Done