What is Gingham in Interior Design?
Gingham is a classic pattern that has been used for centuries in home decor. It features an alternating checked pattern created by weaving together two different colored yarns, usually in white and another color (most commonly red or blue). The simple yet sophisticated design of Gingham can be seen across various home décor items such as:
curtains,
cushions, and more.
Gingham has the ability to add a touch of classic style to any space, making it a timeless choice for interior design.
What is Gingham used for?
Gingham is an affordable way to make your home look cozy and cottage-like. It can give any room a stylish update without being too expensive. Gingham is versatile and can be used in both modern and traditional style homes. Whether you choose a bold red-and-white gingham bedspread or a subtle blue-and-white checked curtain, Gingham is the perfect way to add some classic charm to any space in your home.
Gingham has been around for a long time, but it is still popular today. More and more people are choosing to use this classic pattern in their home décor because it always looks good. Gingham is likely to remain popular for many years to come.
What is gingham style?
Gingham is a style that has been around for a long time. It can make any space look classic and charming, or modern and cozy. Gingham works with many different colors, so it is easy to match your existing decor. The pattern also adds a hint of texture to any room, giving it a classic look that is easy to love. Whether you're looking for an eye-catching statement piece or subtle accents, the Gingham style can be used to add some timeless charm to your interior design.
What kind of material is gingham?
Gingham is most commonly made from cotton, but can also be found in other fabrics such as linen, polyester, and rayon. The fabric has a lightweight feel that is perfect for creating a comfortable atmosphere. Gingham also holds up well to wear and tear, making it an ideal choice for any interior design project.
What patterns go well with gingham?
Gingham pairs well with a variety of other patterns, such as:
stripes,
polka dots,
and florals.
It is also versatile enough to be used in both traditional and modern interiors. By mixing gingham with these other patterns, you can easily create an inviting atmosphere that is sure to liven up any room.
Related Links
Gingham Fabric – Checked Fabric – By The Yard
Gingham Fabric – Onlinefabricstore.Net
Gingham Fabric
Gingham Fabric
Woven 1/4" Gingham Fabric – Discount Designer Fabric
Related Videos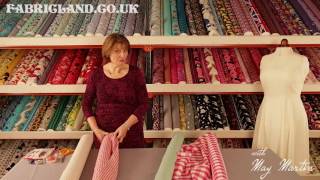 May Martin Talks About Gingham Fabric With Fabric Land
May Martin Talks About Gingham Fabric With Fabric Land