What is a Huntboard in Interior Design?
Huntboards were originally designed as an outdoor dining surface for hunters to enjoy food and drinks after a successful hunt. However, over the centuries, these long tables have become popular pieces of furniture in interior design. A typical Huntboard is made from light and durable wood, such as pine or oak so that it can be easily moved outdoors. It is designed with a beveled edge, two or three drawers, and sometimes a cupboard below the table surface where dishes, cutlery, and linens can be stored. The Huntboard is also often decorated with carvings and ornate designs to enhance its visual appeal.
What is a Huntboard used for?
Huntboards are versatile pieces of furniture that can easily fit into any interior design style. In traditional settings, a Huntboard provides an inviting atmosphere for guests to gather around during meals and special occasions. For a more modern look, the Huntboard can be paired with sleek chairs or benches for a contemporary touch. It can also be used as a decorative item in hallways or entryways to add an interesting focal point to the room.
No matter how you choose to use it, a Huntboard is sure to bring a unique touch of charm and warmth to any interior space. Its classic design and storage capabilities make it an ideal piece for both traditional and modern homes. With proper care and maintenance, a Huntboard can last for generations, adding character and inviting comfort to your home for years to come.
What is the difference between a sideboard and a huntboard?
Although both sideboards and huntboards serve similar purposes as a storage furniture pieces, there are some key differences between the two. The main difference is in their construction; while a sideboard typically has an overall rectangular shape, a huntboard is usually longer and thinner with beveled edges, drawers and cupboards below the table surface. Additionally, huntboards are usually more ornately decorated than sideboards and are made from light wood so they can be moved outdoors. Ultimately, the choice between these two pieces of furniture will come down to personal preference and style.
A sideboard or huntboard can look good in any home. They are classic designs that can be used for storing things. With proper care and maintenance, they can last for years and make any space look nicer.
Related Links
Southern Yellow Pine Huntboard, Ca. 1825 – Antiques Roadshow – Pbs
The Versatile Huntboard – Finewoodworking
Southern-Style Huntboard
Coastal Virginia Huntboard – Gates Antiques Ltd. – Richmond, Va
Related Videos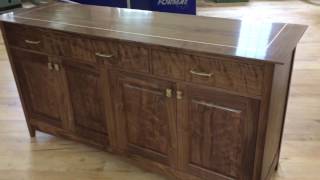 Walnut Huntboard With Secret Compartments
New Bohemian Huntboard By Universal Furniture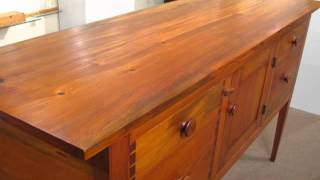 Kiawah Huntboard, Solid Old Growth Pine
Walnut Huntboard With Secret Compartments

New Bohemian Huntboard By Universal Furniture

Kiawah Huntboard, Solid Old Growth Pine