What is Inset Tile in Interior Design?
Inset tile is a type of wall or floor covering that stands out from the rest of the tiling in an area because it has a different design, color, size, and/or texture.
What is Inset Tile used for?
It's used to create interesting visual effects and can be juxtaposed with the surrounding tiles to increase their impact while also creating a unique look. Inset tile is often used to create focal points, accentuate architectural features, or add contrast and texture to a space.
Advantages of Inset Tile
The main advantage of inset tile is that it's easy to install and can be customized to the exact specification of any room.
It also allows for more creativity in terms of decorating, as you can mix and match different colors, textures, and patterns to create a truly unique look.
Inset tile is a great way to customize your interior design and add character to any room or surface.
It's a versatile option that can be used in virtually any setting, from classic traditional interiors to modern contemporary designs.
With inset tile, you're sure to create something special for your next project.
Disadvantages of Inset Tile
One downside to inset tile is that it might cost more money. This is because you might have to buy custom-made pieces or get materials that are better quality.
Additionally, installation can take a while because you need to make sure the pieces fit together perfectly and create a seamless look.
Upholstery tufting styles
Inset tiles can be time-consuming and require special equipment. However, inset tile is a great way to add character and style to any room or surface. When choosing to use inset tile, it is important to consider the cost, time, and effort involved in creating your desired look.
Related Links
How to Install a Tile Floor Inset
Mosaic Inset Tiles Design Ideas
Labor Day – Tile Rug Patterns – House Tiles, Entryway Flooring, Foyer Flooring
Tile Inset
Essential – Inset White 5″X5″ (Matte)
Related Videos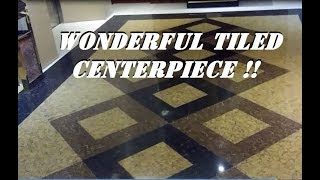 Inset Tile Design