What is a Cassone in Interior Design?
A cassone is an Italian chest, prominently featured in interior design. It is made of wood and is often highly decorated with carving and inlay.
What is a Cassone used for?
Cassones were used as storage chests for clothing, linens, and other personal possessions, although they could also be decorative pieces meant to commemorate special occasions or serve as important architectural elements. In fact, some scholars believe the term "cassone" derives from the Latin word "casus" meaning "box" or "chest".
Cassones are heavily associated with Renaissance Italy when their production was at its height. They were typically crafted from walnut or poplar wood and then hand-painted with scenes from classical literature or religious imagery. Many cassones also featured intricate carvings and lavish inlay, making each piece a unique work of art.
Today, cassones are still often used in interior design. You can place them near the foot of the bed or on either side of a mantelpiece to add decoration. Revival-style cassones have ornate flourishes that look good with traditional and modern decor styles. They can be used as standalone pieces of art or to store precious items. These chests remain an enduring symbol of Italian craftsmanship and style.
What was the purpose of a cassone?
Cassones were often used as furniture, but they also had other purposes. They were often given as wedding gifts in Italy and other parts of Europe during the Renaissance period. Couples would use them to store their linens and other personal items. They could also be used as architectural elements, such as when placed alongside a bed or mantelpiece. Sometimes, cassones were even used as coffins for the dead.
What is the difference between a Cassone and a Cassapanca?
The term "cassone" often refers to a large chest typically placed against the wall, while a "cassapanca" is usually smaller in size and intended to be used as seating. The two terms are sometimes used interchangeably, but a cassone is generally considered more ornate than its counterpart.
What is cassoni in Italian?
In Italian, "cassoni" is the plural form of "cassone" and typically refers to multiple chests of this type. Cassoni can be used both as furniture and decorative items in interior design. The term is also sometimes used to refer to a specific type of chest made with two drawers.
Related Links
Marriage chest (cassone) ca. 1480–95
World Myths And Legends In Art (Minneapolis Institute Of Arts)
18th Century Italian Cassone Or Chest
Italian Renaissance Cassoni Paintings
Cassone ca. 1425–50
Related Videos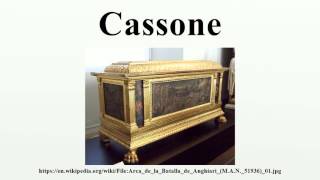 Cassone