What is Fiddle Back in Interior Design?
Fiddle back is a term used in interior design to describe a backsplat in the shape of a violin (fiddle) that is typically seen on Queen Anne chairs. It is an ornamental feature, usually carved from wood or other materials, that adds character and style to furniture. Its name derives from its distinctive shape which indeed looks like the neck and body of a violin, or fiddle. It is also known as splatback due to its similarity with the flat backsplats found on other furniture styles. Fiddle back has become an iconic design element in traditional and modern interiors alike and remains popular today.
Why are fiddle back chairs so popular?
Fiddle back chairs are not only aesthetically pleasing but can also be incredibly comfortable too. Their contoured shape creates a supportive seating position and their arms provide additional support. The upholstery of the chair often follows the curved shape of the backsplat which makes for an even more ergonomic experience. With its timeless design, fiddle back chairs make excellent statement pieces in any home.
Fiddle back chairs can be found in a variety of materials and can complement many interior styles. From sleek contemporary designs to more traditional pieces, the fiddle back shape has been used to create furniture that is both stylish and comfortable. Additionally, this backsplat style looks particularly striking when upholstered in velvet or leather for a luxe look.
The fiddle back shape is not only found on chairs however; this classic silhouette can also be seen on other furniture such as cabinets, armoires and tables. Whether used to accentuate a piece or form the entire design, the fiddle back shape remains an iconic feature in interior design today.
Advantages of Fiddle Back in Interior Design
The fiddle backsplat offers a unique blend of style and comfort. Its distinctive shape adds character to furniture while providing support for the back, neck and arms when seated.
Additionally, its timeless design works with many different interior styles and materials allowing it to be used in both traditional and modern homes alike. Furthermore, this backsplat style looks particularly striking when upholstered in velvet or leather for a luxe look.
Finally, its versatility means that it can be used on furniture such as chairs, armoires and tables creating a beautiful design feature in any room.
Related Links
Chapter 16: Queen Anne Fiddle Back Chair
Fiddle Back Chairs
Vintage Fiddleback Wood Chair White
Rowyn Wood Dining Fiddle Back Dining Chairs (Set Of 2) By Inspire Q Artisan Shopping
Fiddle Back Dining Chair – Victorian Antique Furniture Replica
Related Videos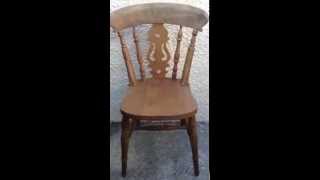 Farmhouse Kitchen Solid Oak Chair Fiddle Back Rustic Chair
Farmhouse Kitchen Solid Oak Chair Fiddle Back Rustic Chair